Review of Battle of the Bands: Encore Edition!

Battle of the Bands: Encore Edition
is the rock & roll adventure game by Dan Smith.

Players: 2-4

Playing Time: 15-60 minutes

Difficulty: 4 (of 10)


This is a review of the "Encore Edition", which is essentially the second edition of Battle of the Bands, with some nicer components and some extra components.


The Gameplay section of this review is based heavily on my review of the Portable Adventures, as the two systems are very similar, though not quite identical.

The Components

Battle of the Bands comes in a nice double-card box with the following components: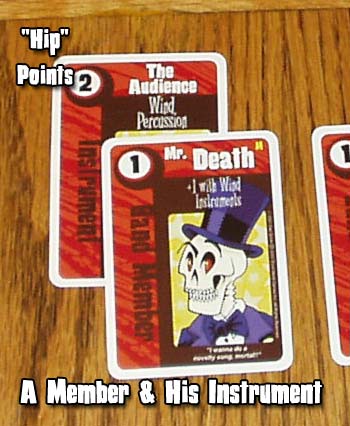 120 cards

4 dice

1 rule sheet


Cards: Each card belongs to one of eight categories: Gig, Band Member, Monkey Wrench, Instrument, Reputation, Signed Contracts, Hit Single, and Music Biz. The name is printed on the spine of the card so it's easy to see when you're fanning a handful of cards. Some cards also have a star (or two) at the top left which measures "Superstar Points", which mark victory conditions.


The types of cards are also helpfully color-coded: instruments and reputations are played on characters, and all three are colored red; while
monkey wrenches are played during gigs, and both are blue. The other three card types are a variety of colors. Personally, I would have made the signed contracts and the hit singles the same color, as you need the one to play the other, but even without, they're fine.


The band member, instrument, and reputation cards are the simplest of the bunch. Each features a name and a "hip point value". The band members and instruments also feature nice, cartoonish artwork. In addition, each instrument lists a "type" (such as percussion or techno) and most band members list a related speciality (e.g., "+1 with Techno Instruments").


The reputations are a bit more wordy--as are all the rest of the card types. They tend to have a bit of color text, but otherwise fill the card with all the rules necessary to play the card. This isn't as intimidating as it sounds, because for the most part they just list the standard rules for that type of card (e.g., the signed cards say, "By playing the contract card on your band, you may begin playing hit singles on your next turn" and "One contract per band at any time"). On the one hand, this tremendously adds to the usability, as you don't have to remember hardly any of the rules to play. On the other hand, it's a shame to have these cards so plain, rather than featuring more Dan Smith artwork. A compromise, I suppose.


The cards are printed four-color, double-sided, on a medium card stock that should hold up. The cards all have rounded corners. 4 "Me" cards are printed with differently colored backs to make it easy to pull them out at the start of the game (and they really do stand out, because they have black card borders rather than white).


Dice: The dice are cool red dice with inked numerals, each next to a star. They nicely match the feel of the game, though I always wonder how these inked-but-not-indented dice are going to wear.


Rule Sheet: The rules are a two-sided sheet, multiply folded. They're printed in black and white. They read well enough are were also good for reference.


Box & Tray: The box is just about the right size for the 120 cards & dice. It has a tray that lifts off, making it easy to put the cards away, and also has a very nice PVC tray inside which holds both the dice and the cards without anything sliding around. This is my ideal method for a game of this sort to be packaged, though it would have been better if finger holes were available to pull the cards out. (As it is, you just need to flip the box.)


Overall, the components of Battle of the Bands have very good usability. The cards with artwork are quite attractive, while those with all text have some nice thematic flourishes in the backgrounds and borders, but are otherwise plain. Nonetheless, the game ekes in an above average Style rating of "4" out of "5" (particularly when you consider how well the game adheres to the theme of battlin' rock bands, a theme which just oozes from every card).

The Game Play

Battle of the Bands is about winning Superstar points through Signed Contracts, Hit Singles, and Gigs.


Setup: There are 4 special Me cards in the deck, each of which will represent one of the players in the game. Each player is given one of these, plus a starting hand of five cards.


Types of Cards: There are eight card types in Battle of the Bands: Band Members, Instruments, Reputations, Music Biz, Signed Contracts, Hit Singles, Gigs, and Monkey Wrenches.


Band Member. These represent yourself and the other people who will join your band. Each Member has a name, a sex, and a hip point value, which is the member's value in gigs. Most members also have a speciality: for "me" this is an instrument type which gives you a bonus Superstar point if you use it; for everyone else this is an instrument type which gives them a +1 hip point value.


Each player can have up to 4 band members.


Instrument. These are used by band members. They add hip points to the band member. Instruments also include a category such as "percussion" or "stringed"; as already noted, some band members are better with certain types of instruments.


Each character can only have one instrument card


Reputation. These flippable cards either give a hip point bonus or penalty. For example the "Groupies" reputation says "+2 Sex Machine" on one side and "-2 Diseased" on the other. To successfully play a reputation, you choose a side and a target band member, then roll a die. You only place the reputation if you roll the band member's total hip point value or less.


Each character can only have one reputation.


Music Biz. This are general and instaneous event cards. Some have a good effect for you (e.g., recover a card from the discard), but most have a bad effect on your opponent (e.g., steal one of their band members).


Signed Contracts. These cards are worth one or more Superstar points and give you the ability to play Hit Singles.


Each player can only have one signed contract.


Hit Singles. These cards are the main source of Superstar points in the game.


Gig. These start off Gig rounds (more on them later). Each one is worth one or more Superstar points.


Some gigs are "signed", which means that the player who wins them can then produce hit singles.


Monkey Wrench. These are special event cards that are only played during gigs, and affect the outcome of a gig.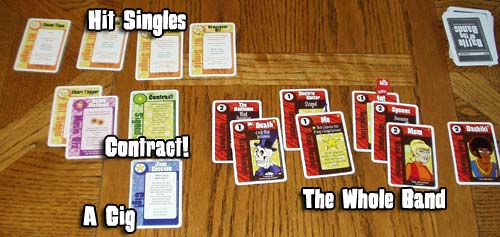 About This Set's Cards: Overall the cards in Battle of the Bands share two characteristics: they're very appropriate to the genre and they're also very simple.


This means that you get great, evocative cards, like "Empress Hole Punch", a singer with rather sharp chest accessories, and a Music Biz card labelled "Poor Sales" with the text bubble "Their band Sucks!".


On the other hand there isn't a lot of variety in, say, the rules on individual Gigs, Contracts, or Hit Singles. They have great color, but generally work the same.


Playing the Game: Once you understand the cards, the gameplay is pretty clear. Each player's round looks like this:



Draw Cards up to 6.

Play a Card; or Discard



The rules for play have already been outlined. Basically, you: play a band member or an instrument or a reputation on a member; or you play a contract or a hit single; or you screw around with a music biz card.


If you play a gig card, then a gig round starts.


(The only other thing is, that instead of playing a card you can choose to discard up to three.)


Gig Rounds: Whenever a gig card is played, a new little sub-round begins. Play now goes around the table until everyone has passed in a row. Each player can either pass or play a card:



Play a monkey wrench card, which explicitly affects the gig in some way.

Play a band member card as a guest star, which means it's discarded at the end of the gig (but in the meantime you can go over the 4 band member limit).

Play an Instrument card, but it's a loaner, meaning it gets discarded too.


Afterward each participant in the gig rolls a die. They each player calculates their Hip Point total for all band members, instruments, and reputations, then adds the die roll. The winner (with the highest total hp+roll total) takes the gig, with ties giving the gig to the player who played it.


Winning the Game: When a player reaches 8-12 Superstar points (depending on the number of players), he wins the game. These points will be the result of gigs, contracts, hit singles, and the Me card getting his favored instrument. Most seem to come from hit singles.

Relationships to Other Games

Battle of the Bands is, of course, the second edition of the Battle of Bands card game. It's better produced and has a couple of extra cards.


It's also closely related to Dan Smith's Portable Adventures. The difference is that the Battle of the Band systems is: modified to be more appropriate to the genre (e.g., "band members" instead of "characters"; "instruments" instead of "stuff"; etc); is generally simpler (e.g., fewer cards have special powers or do weird things); and generally more elegant (for the aforementioned reason of simplicity, but also because the card types are better categorized and better named).


At first when I got Battle of the Bands I thought, "it's too bad this isn't a Portable Adventure", and then I decided instead, "it's too bad Portable Adventures aren't this". I finally decided that they each have their good points: I wish Battle of the Bands had a bit more complexity, but I also wish the Portable Adventures had a bit more elegance (not that either is a real problem in the respective games).


Battle of the Bands is also a fairly light beer-and-pretzels game that generally fits into the "adventure" genre, which are close-kin to roleplaying games, but in the board/card game field.

The Game Design

Battle of the Bands is a high-quality, light card game. It plays great as a filler and as a casual game, and avoids the troubles common to most beer & pretzel games (which tend to be overly long, overly random, and have bad endgames, none of which are issues here).


Here's some of the game design I liked:


Funny & Apt: The theming of the game is both funny & well done. The whole game has a real rock & roll feel to it.


Quick & Simple: The game plays quickly & is very easy to learn and play.


Some Strategy: Finally, there is some opportunity for strategy in the game, mainly based on when to call for gigs, and how to prepare for them.


Beyond that, the game does have a lot of randomness, but at a level fitting with the genre of game and the length of play. I really don't have any complaints about the gameplay. Overall, I give it a "4" out of "5" for Substance.

Conclusion

Battle of the Bands: Encore Edition is a wonderfully thematic game that plays quickly & simply. It's a beer & pretzels game, and that does mean it's light and random, but it's actually a good example of a well-designed game in this field. A recommended game--especially if you once wanted to be in your own rock & roll band. 46d8