Review of Catan Geographies: Germany

Catan Geographies: Germany
is the newest
Settlers of Catan
release. It makes some slight changes to the original game to produce a friendlier, less stressful experience, and does so with a set of gorgeous components.

Players: 3-4

Playing Time: 60-90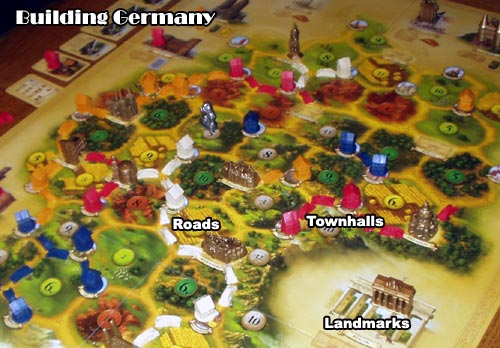 The Components

Catan Geographies: Germany is a beautifully produced game. It includes:


Board: A huge 6-panel map of Germany, printed on linen-textured cardboard. The art on the board is by Mike Nezel, and it's outstanding. All of the fields, clay pits, forests, and other terrains of Catan are depicted in full-color paintings, surrounded by pictures of the cities of the country, plus its most notable monuments.


The board also makes an admirable attempt to simplify scoring by having places for every scoring element (including the Largest Army and Longest Road), plus the various "landmarks" (a new concept in this game), all on the board. Whenever you score something you place an appropriate marker on the board, thus you can always glance over the board to see how many points you have (or, just look at your remaining supply of "town halls".


Plastic Bits: In a notable change from the classic American Catan releases, all of the bits in this game are plastic. This includes 20 roads and 12 town halls for each player, plus 12 entirely unique landmarks. The roads and town halls are nicely detailed hard plastic bits, but it's the landmarks that stand out, since they're little miniature replicas of 12 German cathedrals, castles, and other places of note. These landmarks are probably less meaningful to the American audience than the original German audience, but they're still very good looking and make for some attractive play.


There's also a plastic "robber".


Cards: 120 half-sized cards. These include 90 resources and 26 development cards, all of which are attractively laid out. (I'd actually say the resource cards are gorgeous, which is apparently thanks to the graphic design of Fine Tuning.) You also get two little plastic trays to display the cards in, which helps to keep them neatly organized, and is a terrific addition to the game.


The last four cards are the "building cost" cards, which show how much it costs to build things in the game. These are a bit disappointing, because they're so tiny. The building cost cards have always really helped to hold the Catan games together by providing a terrific utilitarian reference. Here, they're so miniaturized that I think new players would have troubles making out what's what (though if you're an experienced player, this new game is close enough to the original, that I doubt you'll have any problem).


I do have one other minor complaint about the cards: their back sides are printed in grayscale, which takes away some of the beauty of an otherwise beautiful game.


Rules: The full-color rulebook contains many examples and easy to read. Notably, the game also comes with an "Almanac" which is a guide to the places shown in Germany. Again, I suspect this will be a more exciting addition to folks from Germany (or, at least, in Europe), but it nonetheless really highlights Catan Geographies: Germany as a unique release.


Overall, Catan Geographies: Germany is one of the most beautiful games I've ever played. It features great components and the typical easy usability of the Catan line. I've thus given it the highest Style score I can: "5" out of "5", and even there it surpasses most of its peers.

The Gameplay

Much like any Catan game, the goal of Germany is to earn victory points by building various structures and staying ahead in a couple of competitions. If you're familiar with Catan games, you should pay special attention to discussion about when you can build roads and to the new "landmark" structures.


Setup: The map of Germany is laid out; unlike traditional Catan, there's no setup required here; this is a fixed map.


Players take turns placing town halls on three of the towns in Germany. Then they collect the resources next to their final town hall.


Town Halls & Resources. As in the original Catan, each town hall is situated between up to three hexes. These hexes each produce a specific commodity (wood, sheep, ore, bricks, or grain) on a specific die roll (from 2-12).


Unlike the original Catan, town halls can only be built at specific vertices, which are designated as town spaces. Some of the other hex vertices are empty and some are marked with spaces for landmarks.


Landmarks. These are "neutral" structures. They can be built by anyone, but there's no ownership afterward. Instead a player gets an immediate reward for building the landmark, which is designated on the board. Most landmarks give a reward of two resources (e.g., a wood and a grain), but some instead give 1 development card or 1 road. There's even a landmark, over on the southwest corner of the board (in Freiburg), which gives two development cards. You get a victory point too.


Order of Play: Each turn each player gets to take the following actions, in turn:



Production

Trading & Building


Production: Each turn a player rolls a pair of dice, with a result between 2 and 12. As you'll recall each hex has a number. When a number is rolled, all hexes with that number produce their resource. (With one exception: a hex with the robber on it doesn't produce; more on that in a second.) Each specific hex type produces a specific resource type:


Forest: Wood

Pasture: Sheep

Fields: Wheat

Hills: Brick

Mountains: Ore


if a player has a settlement adjacent to a hex that produced, he gets 1 resource card worth of that resource.


If a "7" is rolled, the robber is activated. This robber, marked by a token (actually called "Gotz von Berlichingen" in this game) is moved by the active player to any hex of his choice (other than the one it currently resides on). He can then steal a resource card from any player who has a city or settlement adjacent to the robber's new home. As noted above, that hex won't produce in the future, until the robber is moved.


There's one other penalty for a "7" being rolled: anyone with more than 7 resource cards loses half of them. (And, finally, no hexes produce, because there are no hexes with a "7" production chit.)


Trading: You can next trade cards with other players--and you should, frequently (ie, "I've got a 'wood' if anyone wants to trade me a 'sheep' for it").


You can also engage in trade with the bank by offering 3 of one card (e.g., "3 ore") for 1 of another (e.g., "1 wheat"). You can get a better bank trading ratio by playing the special "Trade" card, which improves your ratio to 2:1 for the turn.


Building: Before, after, or during trading, you can also build. You'll be able to build two broad classes of things: structures and technology ("development"). In each case you spend certain types of resource cards in certain combinations in order to build.


Structures. Each player has three types of structures he can build: roads, town halls, and landmarks.


As noted earlier, town halls and landmarks are built at the corner of hexes as designated. They're worth 1 victory point each. You also get that aforementioned reward when you build a landmark.


Roads are built out from town halls or landmarks--and are required to be able to build additional town halls or settlements. There's one specific restriction, which is new to the Germany game: you can't build past a vertex intended for a town hall unless you have built a town hall on this space; similarly, you can't build past a vertex intended for a landmark unless someone has built a landmark on that spot. The space can't be empty though, if you want to continue your road.


The player with the longest road get to place a town hall on the Longest Road space, which is worth 1 victory point.


The costs of these three structures are as follows:


Town Hall: 1 wood, 1 brick, 1 wheat, 1 sheep

Landmark: 1 wheat, 2 ore

Road: 1 wood, 1 brick



Technology. Players can also choose to "build" development cards, which are drawn from the development card deck. It includes "progress cards", which have any number of in-game effects, special victory points (which are saved until the end), and mercenaries.


Mercenaries are special cards which can be used to move the robber, shifting him from one hex to another, and also allowing the person who played the mercenary to steal a resource card from a player with a town hall adjacent to the robber's new position. Whomever has the largest army of mercenaries get to place a town hall on the "Largest Army" position, which is worth 1 victory point.


The cost to purchase development cards is:


Development Card: 1 wheat, 1 sheep, 1 ore


Only one development card can be played per turn; you're allowed to play a card on the same turn you drew it.


Winning the Game: The game goes to 10 Victory Points (or 12 with only 3 players), which is won by adding up all the possible VPs, as follows:


Town Hall: 1 VP

Landmark: 1 Vs

Longest Road: 1 VP

Largest Army: 1 VP

Some Development Cards: 1 VP

Relationships to Other Games

Catan Geographies: Germany is a variant of the classic The Settlers of Catan game. It is actually called The Settlers of Catan: Deutchland Edition in Germany, which I think is a more accurate description: it's a very close variant to the original game.


The main difference in this new game is a general tendency to simplify the game (without necessarily simplifying the game's strategy). Thus, everything is now worth 1 victory point. Landmarks replace cities, getting rid of an extra set of rules. Finally, ports are replaced with a simple 3:1 exchange rate.


I also think that some work has been done to make the game more forgiving and quicker. This shows up most explicitly in the layout of the numbers on the hexes. Some of the less common numbers show up a lot more than the more common numbers. For example there are only three "8"s but five "11"s. The result is that every single die roll tends to produce a bounty of goods.


All-in-all I think that the result makes the game even more friendly to casual and family play. That's always been the case with Catan, but the board game market has shifted a lot in the 14 years since Settlers was released, and I think that this new Germany game brings Catan much more into line with recent family releases.


The downside of this all is that Germany isn't usuable with the many supplements released for The Settlers of Catan; you're just getting a one-shot game.


In its style, Germany reminds me the most of the Historical Scenarios that used to be released for Catan. They all provide set maps with just enough difference to make the new game interesting. The difference is that the old Historical Catan games used the pieces from the base game, while Germany is standalone.

The Game Design

The Settlers of Catan has always been a strong game system, and Catan Geographies: Germany follows in that tradition, though it doesn't offer much new in and of itself.


As with all the games in the series, Germany is easy to learn and easy to play. Despite that simplicity there's a lot of fun and deep strategy to Catan (including multiple paths to victory, depending on what resources you concentrate on), as well as the whole idea of empire building: you're really creating a little society that you can watch expand over the course of the game.


Laid on top of a nice civilization-creating resource-management game is a simple but sturdy trade system, which introduces just enough interaction to the game to keep it interesting for those who require human interaction in their games.


For fans of the existing game, I can't particularly endorse Catan Geographies: Germany unless you're a completist. There just isn't enough that's new to require the purchase of this new game. (And if you are a completist, you're going to buy it the instant it hits stores, so what I say doesn't matter.)


However, I don't think that existing players are really the market for Catan Geographies: Germany. It's really an introductory game that'll be great for families and more casual play. Everything about the game--its attractiveness, its polished mechanics, and its more forgiving play--lends itself to beginner play. If you don't play a lot of board games or if you're trying to convince family and friends to play more, Catan Geographies: Germany just became the best introduction to the whole Catan family of games. Consider it a new "gateway" game to European board game play.


Measuring Catan Geographies: Germany on the basis of its core mechanics, I've given it a "4" out of "5" for Substance. (Existing Catan players might find it more average due to its similarity to the original game.)

Conclusion

Catan Geographies: Germany is the newest game in the Settlers of Catan family of games. This newest release is a great introductory "gateway" game. The gameplay is polished and simplified just a bit and the components are among the most beautiful that you're find in any European board game.


Existing Catan players will find it pretty similar to the original game, which is why it was called the "Deutchland Edition" when it was released in Germany. 465a