Review of Innovation

Innovation
is a new card game by Carl Chudyk, published by Asmadi Games.

Players: 2-4*

Playing Time: 60 minutes


* I suggest 3 for a great combination of interaction, yet quicker play and less chaos.

The Components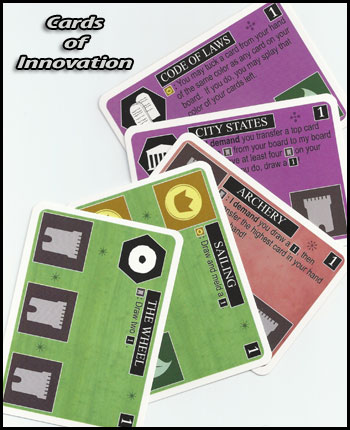 Innovation comes in a small box featuring a rulebook, four reference cards, and a large deck of cards.


Cards: The cards in Innovation are the heart of the game. Each one represents a different technology in a different era. They run the gamut from Masonry, a a Prehistory (era 1) technology, to the Internet, an Information (era 10) technology.


There's also quite a bit of other information on each card. First, you have the color of the card. Next you have three icons on the card, which relate to various areas of expertise and can include castles, ideas, leaves, industry, crowns, and clocks. (I wish there was a guide somewhere that said what both the colors and the icons were supposed to specifically represent.) These three icons can be in three of four spaces on the card, which has an affect on how the cards "splay".


Finally, each card has one or more dogmas. These are special powers whose usage is based on one of the six icons.


Though the cards have a lot of good usability, centering around the big icons and the coloring, I also think Asmadi missed a bet in not using a more extensive language of icons for describing what the cards do. There is a lot of variety amidst the Innovation cards, and this can limit how much your icons can depict, but nonetheless they could have introduced enough to make the game run much faster, even if players could only recognize half the powers at a glance (and I think they could have improved on that ratio).


The lack of iconic usability is particularly notable on the five special achievement cards, each of which gives players some special conditions they can meet to earn an achievement (and move toward victory). As they stand, the text-full special achievement cards are nearly impenetrable to a first-time player, whereas I've seen iconic representations of them online that do a great job of simplifying their victory conditions.


In any case, the issues with icons will affect first-time users more than people who regularly play the game, because after you've played through a few times you'll gain an increasingly intuitive grasp of what each of the unique cards do.


The cards are all medium-weight and printed on glossy cardstock.


Reference Cards: The main purpose of these cards is to act as a central playing area for each player, so that he can place his score cards to one side of the reference and his achievements to the other. However, they also helpfully remind players of the four possible actions, of the various special things that can occur, and also which icons appear in which eras.


Though these cards have big blocks of text, they do succeed in their major purposes.


Rulebook: A small, full-color rulebook. It does a good job of explaining the game.


Overall, Innovation has good quality components that are relatively plain and which have some issues with usability. I also haven't mentioned one other issue that I usually include in Style: the evocativeness of the theme. I love the theme of civilization building that's at the heart of innovation, and think that it comes across well in the game, even if I often don't understand what certain dogma powers have to do with the theme of the card (e.g., why does "Collaboration" give a player a win with 10 green cards? Maybe if I knew what green cards were meant to stand for …) But that confusion does suggest there are some way the theming could be improved.


Adding that all together, I get a wash. I've thus given Innovation an average "3" out of "5" for Style. I'd love to see it improved with better usability and with the theming of the cards more explicit.


By the by, I find the cost a little pricey for the components but (as you'll see) well-worth it for the gameplay.

The Gameplay

The goal of Innovation is to build civilizations that can best win great achievements over the course of history.


Setup: The cards are separated into ten decks, one for each era, and shuffled separately. Each player is given two era 1 cards as his starting hand. One card from each of eras one through nine is placed face-down in the middle of the table as an achievement that can be won.


Each player now simultaneously chooses and reveals one of his cards. This shows the technology upon which is civilization is built. It also reveals a first player, by who played the first card, alphabetically.


Order of Play: On his turn, a player can take two actions from a menu of four. They can be the same or different actions.


Draw: Draw one card at the era level equal to the era level of your highest card in play ("melded" on the table).


The Draw Rule. Whenever you go to draw a card, if no cards are available for that era level, you go up to the next era level for which cards are available. This is one of the main ways to technologically advance in the game.


Meld: Take one card from your hand and place it on your table. It will stack atop any cards of the same color. If those cards are splayed (which we'll get to), it splays too.


Achieve: Take the lowest value achievement from the middle of the table as long as you have 5 * its value in scored points (and we'll get to what those points might be in a minute).


Dogma: Finally, you can use the dogma(s) of a card that you have in play at the top of a pile. The dogmas on a card are always associated with one of the six game icons. These control who is able to use the dogmas on whom.


To use a dogma, you'll count up all of that icon which each player has visible on the table: this starts out being just the top cards, but when decks splay (again, see below), they reveal up to 1-3 extra icons on each card under the top card.


There are two general types of dogmas:


Non-demand dogmas give the user some benefit. Count up the icons of the appropriate type that the user has, and anyone with the same or more of that type of icon gets to use it before the active player.


If anyone else used your dogma, the active player then gets to draw a card.


For example, "Domestication" has the simple "castle" dogma: "Meld the lowest card in your hand. Draw a [1]." That effectively gives you the benefit of doing a draw and a meld as one action.


Demand dogmas are attacks on other players. You get to use them on each and every player who has fewer of the indicated icon than you do.


For example, "Construction" has this "castle" dogma demand: "I demand you transfer two cards from your hand to my hand, then draw a [2]!"


Demands can give you many different powers, including the ability to draw, to meld, and to win a set of six special achievements--each of which require certain conditions to be met. In addition, there are a few other standardized powers that they can include:


Splay. We've been talking about this for a while. It means that you take a deck and offset all the cards in that deck to the left, right, or up (depending on which you're told), which will display up to 1-3 additional icons on each revealed card, thus giving you more ability to take advantage of dogmas (in relation to other people), to attack other people with demand dogmas, or to be safe from attacks.


Tuck. Place a card at the bottom of a color's stack. It's mainly useful if the deck is splayed, because that might put 1-3 extra icons on the table without changing what your top card is.


Return. Place a card at the bottom of the draw deck for the appropriate era. This is usually a cost for a good dogma.


Score. You can also be told to put cards in your score area. Their value is equal to their era (e.g., 1-10). You need these to be able to achieve … and thus to win.


Draw and … . Many of the dogmas let you draw a card, then immediately meld, score, or tuck that card.


Winning the Game: The object of the game is to score 4-6 achievements through using the "achieve" action and meeting the special conditions on the six special achievements. If you do, you win.


If no one does this by the time era 9 cards come into play, things get dicier, as there are a number of cards that can allow for special victories (e.g., the most "leave" icons if no one else has many, at least 10 green cards, etc.).


In addition, if anyone ever tries to draw an "11" card (e.g., tries to draw from a high-number deck and finds it empty and keeps going until they get "11"), the game ends immediately and the winner is the player with the highest value of score cards (which is a pretty fair alternate victory condition to achievements, since score cards largely drive your getting achievements).

Relationships to Other Games

Designer Carl Chudyk is also the designer of Glory to Rome. It and Innovation surely feel like they were designed by the same person, as they both have somewhat complex card play and multi-purpose cards, all while centering on cards that are mostly unique, each with its own powers. Mind you, they play very different. Of the two, I find Innovation the simpler game (and the one that I like better, as a result).


Innovation also generally falls into the category of "civ light" games, which is to say games that center on civilization building, but which play much, much faster. When playing Innovation, I'm the most reminded of Through the Ages, because it similarly focuses on unique card play. Of course Innovation is 1-7 hours shorter than Through the Ages' somewhat lengthy play. In that shorter time period, Innovation does a good enough job of getting the civilization theme across that it tends to scratch the same itch.

The Game Design

As you might have already assessed, Innovation is a very original card-management game. There's a real nice ebb-and-flow of icons, colors, and card powers, all of which can affect both your play and others.


A lot of this design comes down to excellent tactical play. With two actions, you're constantly thinking about how you can play a new card and then use its dogma or how you can use a dogma and then take advantage of whatever that dogma gave you.


One of the many interesting (and original) tactical questions is whether you let opponents benefit by using a dogma that they also get to use--and whether it might actually give you bonuses, such as when they empty a deck of cards and you get to draw from the next era up as a result. That one card that you get to draw if others use your dogma is always a factor, as well.


These excellent tactics are supported by interesting resource management. This mainly centers on maintaining icon counts with regard to other players. You often have to make tough decisions in doing so, such as whether you give up a beloved dogma on a top card to get some icons down, and such as which icons you decide to contest. The ability to not just meld, but also tuck and splay gives these decisions more depth.


Overall, I find Innovation to be fun and exciting to play. It's the best new game I've played this year.


However, let me offer two caveats:


First, Innovation does have a random element, since it's based on card draw and every one of those cards is unique. Much of the game is actually about figuring how to best use the position you're given, but for those who don't like luck in their games, this is probably a detriment. I think the game can feel more "lucky" than it actually is through early games, when you're not familiar with the different possibilities of cards, where icons show up, and (especially) what instant win conditions can be found in the final era decks. Once you have a better handle on all of this, you'll be able to play the game better, rather than having the game play you.


Second, Innovation does have some problems with analysis paralysis (AP). It mainly centers on the cards and all the different powers they can have, which result in new players often reading and rereading the cards in their hand. That's another reason that the icons I longed for in the 'Components' section would have been great.


Unless either of those caveats scare you, I highly suggest picking up Innovation, as a great game in its own regard and also a game that does a very credible job of filling the Civ Light niche.

Conclusion

Innovation is one of the best games of the year. It's a fun and relatively quick game of card and resource management that has tough choices, interesting tactics, and a great sense of history marching quickly forward.
4538