Review of Pirate's Cove

Pirate's Cove
is a casual game of swashbuckling adventure by Paul Randles and Daniel Stahl.

Players: 3-5

Playing Time: 60-90 minutes

Difficulty: 3 (of 10)


Pirate's Cove was previously published in Germany as Piratenbucht, though it's actually an American design.

The Components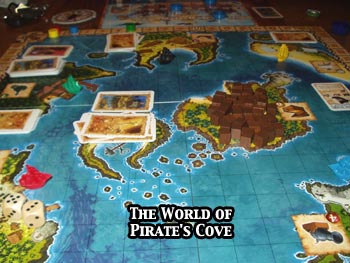 Pirate's Cove comes with a set of very high quality and beautiful components:



1 Game Board

5 Player Boards

5 Captain's Wheels

75 Wooden Markers




5 Fame Markers in Player Colors

20 Strength Markers in Player Colors

50 Brown Treasure Chests




7 Pirate Ships

6 Wooden Dice

44 Doubloons

112 Cards

1 Rules Booklet

1 Summary Card

1 Web Access Number


Game Board: This four-panel board has nice full-color artwork showing the six islands and Pirate's Cove. As much as anything, it's a marker holder. There's a place for a pile of cards at each island, an extra space for tavern cards on Tavern Island, and a fame score board going around the edge. The entire board is printed on heavy, textured cardboard.


Player Boards: Each player has a full-color pirate ship game board, printed on glossy card stock. The sheets actually would have been better if they weren't glossy, because the gloss can cause the Strength Rings that sit on the sheets to slide. The artwork is, again, brightly colorful. Individual tracks mark the status of four ship sections: sails, crew, cannons, and hull. Default values and costs for upgrading are all carefully marked, improving playability. The back of the boards is printed with the full-color picture from cover, but only serves aesthetic purposes.


Captain's Wheels: These are secret movement devices which each player uses to indicate which island he's going to each turn. They're circular cardboard pieces, with simple icons for each of the six islands. A plastic arrow is set by the player to show desired location. Some of the arrows can set a little looser than desired, but overall these are a nice hidden movement device.


Wooden Markers: A variety of wooden markers are used in the game. The player markers are painted green, yellow, red, blue, and purple, while the treasure chests are all brown. Fame markers are circular, and sit on the fame track along the board edge; strength markers are rings, which rest on the player boards, displaying current levels of sails, crew, cannon, and hull; while treasure boxes are placed on board ships until they're buried at Treasure Island. These markers are all nicely done; the grain of the wood shows particularly clearly in the treasure chests, which is evocative.


Pirate Ships: These are resin-cast. They're heavy plastic miniatures depicting ships in six colors: the player colors of green, yellow, red, blue, and purple, and the legendary pirate color of black. The resin-casting of these is a bit grainy, but there's still some nice detail. The purple and black are unfortunately too similar in color. Playing three or four player games, I suggest avoiding purple.


Wooden Dice: Simple six-sided dice, used mostly for combat. They're sort of rustic looking and thus go well with the overall look and feel of the game.


Doubloons: Cardboard money, in denominations of 1 and 5. Unfortunately both the same size, but colored differently to reduce mistakes.


Cards: These small cards are printed on a heavy, textured card stock with rounded corners; they're full color on both sides. There are three different decks: 60 Treasure Cards; 42 Tavern Cards; and 6 Legendary Pirate Cards.The Treasure Cards use 4 different icons to clearly depict rewards available from plundering an island; they're easy to read from across the table. The Tavern Cards include various subtypes of cards (battle, volley, event, parrot, etc.), all clearly distinguished. However it's not immediately obvious when each different card should be used in play; a clear statement on the card as to when to play it would have been helpful. The Legendary Pirate Cards use icons and text to describe the powers of each black pirate ship. These cards are all mostly composed of text and icons, but do have occasional small pictures which are attractive.


There are also a couple of blank cards, laid out as a few different card types. Having these available to personalize the game is nice.


Rules & Summary: The rules are twelve pages printed in full color. They're very pretty, and were also fairly clear to read. The last half of the rulebook is an almanac, collecting together specific notes on islands and cards; it was very useful during play.


The summary is printed on the same glossy cardstock as the player boards. On one side it nicely summarizes info on ships, islands, and scoring; on the other it summarized the whole game turn. I used this during play, and wished that there was one for each palyer.


Web Access Number: Days of Wonder includes a web access number with each of its games, allowing play of all their games online. There unfortunately isn't an online version of Pirate's Cove, but this is still a nice bonus, because you get to try out multiplayer versions of Gang of Four, Queen's Necklace, and Fist of Dragonstones--Days of Wonders' current collection of smaller games.


Box & Tray: The box is a sturdy square box that will match up with Days of Wonder's other big-box game, Mystery at the Abbey. It's covered with nice-looking art and is generally sturdy. The tray is terrific, and has precise spaces for all the components. Overall, it's bigger than this game needs, but that's the sole complaint.


In general, the components in this product are artistically designed and of superb quality. Pirate's Cove thus earns a full "5" out of "5" for Style. My only warning is, that with a big map and also a full set of player boards, this game can take a lot of room to play.

The Game Play

You are a pirate! Har! A scorge of the seven seas. Or, at least, the one sea surrounding Pirate's Cove. It be your mission, matey, to loot and ravage the nearby islands and to collect and bury gold and treasure chests, thus achieving fame and becoming the pirate that young pirates look up to.


Har.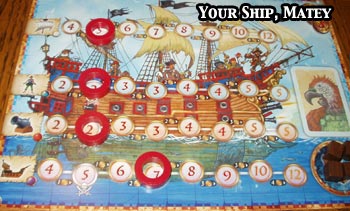 The Pirate Ships: Each player starts out with their very own pirate ship, depicted by a player board. A player outfits his initial ship by laying out strength markers for the various section: 5 for sails; 2 for crew; 2 for cannons; and 5 for hull. These all relate to combat: sails determine combat turn order; crew and cannons show damage potential; and hull reveals the current health of the ship as well as maximum number of treasure chests that can be carried..


As the game proceeds, players will lose points in these systems through combat and will be able to purchase points in these systems at certain islands. Costs to upgrade systems vary from 1 doubloon to 4 doubloons (per level of upgrade), and are all clearly displayed on the ship chart. There are 8 values for each ship section: cannons and crew go from 2 to 5, while sails and hull go from 4 to 12.


Ships can also be supplemented by master crafts and parrots (two types of cards available among the Tavern Deck), though only one of each per ship. Master crafts absorb two cannon hits for a specific ship section before being destroyed. Parrots do the same, but also give a particular and powerful special ability to the player.


Legendary Pirates: The players aren't the only pirates on the open seas. There are also 1 or 2 legendary pirates about, rampaging through the islands. A legendary pirate is selected by choosing him from a deck of 6 cards. Each pirate has a name and picture, a basic description of his ship (hull, sail, damage), and a fame value for defeating him. It's also specified which locations he aims for on which ships when he's in battle. Some legendary pirates also have additional powers.


Legendary pirates are shown on the board by ominous black ship miniatures.


Setup: Besides getting your pirate ship arrayed at setup you also toss your fame marker on the zero spot; that's what you'll be trying to improve during play. Then you take the ship in the color that matches your strength rings and place it on the main game board. 1 or 2 Legendary pirates are also drawn from the legendary pirate deck, and black ships depicting them are placed on the board (starting at Tavern Island and possibly Cannon Island). Each player also gets his own Captain's Wheel, a Tavern Card, and 9 doubloons.


Tavern Cards are shuffled and placed on Tavern Island. Treasure Cards are shuffled, then divided into 5 decks of 12 cards each. Each deck is placed on one of the first five islands (Tavern, Hull, Sail, Cannon, Crew). The game lasts 12 rounds, and that's measured by when these decks run out.


Congratulations, you're now ready to pillage across the High Seas!


Order of Play: Unlike most games, players in Pirate's Cove don't take their individual turns in order. Instead players partake in 12 rounds, each of which is divided into 6 distinct phases:



Treasure

Navigation

Combat

Plunder

Island

Cleanup


Phase One: Treasure: The top Treasure Card is turned up for each of the 5 plunderable islands. Each card shows 4 things which players might win by plundering the island: fame, doubloons, treasure chests, and Tavern Cards. The cards help pirates to decide which island to attack this month.


Phase Two: Navigation: Each player secretly chooses his destination by dialing it on his Captain's Wheel. All players reveal simultaneously and move their ships to the appropriate islands. There are 6 islands to choose between: Tavern Island, Hull Island, Sail Island, Cannon Island, Crew Island, and Treasure Island.


For the next three phases, three through five, player turn order goes in the order of the islands, starting with Tavern Island (#1) and ending with Treasure Island (#6). This means, for example, that all combat is fought at Tavern island (#1), then Hull Island (#2), etc.


Phase Three: Combat: Whenever a player ends up at the same location as another player, or as a legendary pirate, they must fight. The only exceptions are Treasure Island and Pirate's Cove, where players will not fight each other (but legendary pirates can still attack at Treasure Island). Players will always fight legendary pirates before fighting each other.


First, all players play Battle Cards, one at a time, in order of sail score (from highest to lowest). Battle Cards are a type of Tavern Card which have global effects like "smoke screens" (make it harder to hit) and "blow me down" (which temporarily increases your sail score).


After all players are done playing Battle Cards, combat then is resolved in "rounds of volleys". Once again, in order of sails, each player takes an action. If he wishes, he can flee to Pirate's Cove. (Fleeing can cause a mutiny, which results in a loss of fame, on a roll of "1".) If not, the player stays and fights. He may play a Volley Cards, which is another type of Tavern Card, with a smaller effect on combat, and then announces an attack.


Attacks are announced on a specific location in a specific ship (e.g., "I attack Greg's Hull"). Then a number of dice are rolled equal to the minimum of crew and cannon. Each "5" or "6" is a hit, reducing the level of the damaged section by one. (If there's a master craft or a parrot associated with that section, it takes the first two shots instead; a parrot which is killed through this means causes its pirate to lose fame.) A ship section which drops below its minimum level is badly damaged, and the ship must flee at once back to Pirate's Cove.


Whenever a ship flees after being damaged, all remaining players at that island get 1 Fame. Legendary pirates give an amount of fame detailed on their card when they're defeated.


Combat continues in these rounds of volleys until only one pirate ship remains at the island.


Phase Four: Plunder: Each player now collects the loot described on the Treasure Card at his island: increasing fame; adding doubloons to his stash; putting treasure chests on his boat (to a maximum of the hull score); and drawing Tavern Cards. The Treasure Cards vary quite a bit, though they almost all have at least 3 of these rewards.


Phase Five: Island: Finally, each player can make purchases and take other actions, depending on the island. Possibilities include:



Tavern Island. Buy up to 3 Tavern Cards for 2 doubloons each. (Tavern Cards can be the aforementioned Battle or Volley Cards, Fame Cards which give a player a couple of secret fame points, Parrots, Mastercraft cards, or special Event Cards.)

Hull, Sail, Cannon, Crew Island. Upgrade the corresponding ship section as many levels as you wish, with cost displayed on the player board. Also, place a Master Craft card on the section, if you have one.

Treasure island. Bury treasures for 1 fame each and doubloons for one-third of a fame each. Also, upgrade one ship section by one level for double the normal cost, if you so desire.

Pirate's Cove. Only ships retreating from battles can end up here. You get two free Tavern Cards (or a card and two doubloons) and may return each destroyed ship section to its default level for 2 doubloons.


Phase Six: Cleanup. Finally, the legendary pirate ship(s) are moved up one island, in the normal sequence from 1 to 6 (e.g., a legendary pirate on Tavern Island [#1] moves to Hull island [#2]). They'll be lying in waiting for players next turn. Treasure loads are checked to make sure no one's treasure chests exceed their hulls and face-up treasure cards are discarded. A month has passed and new pillaging is about to begin!


"I was totally unable to predict the [movement of] the legendary pirate."

-Confused Player, who really couldn't


Winning the Game: The game ends after the completion of twelve rounds of play. At that point, the player with the highest fame wins. Through the game, fame could have come from a number of different sources:



Defeating Players: +1 Fame

Defeating Legendary Pirates: +3 to +6 Fame

Plundering an Island: +0 to +4 Fame

Collecting Fame Cards: +1 to +3 Fame

Burying Treasures: +1 Fame Each

Burying Doubloons: +1 Fame per 3 Doubloons


Points can also be lost:



Parrot Killed or Dismissed: -2 Fame

Crew Mutinies due to Retreat: -2 Fame

The Game Design

Pirate's Cove is a casual, enjoyable game. The strategy isn't deep, but as a more casual game, it doesn't need to be. Here's some of the better game design:


Difficult Choices: Though most of the strategy is pretty casual, there are some difficult choices in the game, which is good. You're constantly fretting about how to spend your scarce doubloons (on one of four ship upgrades and/or on Tavern Cards). You also have to decide when it's appropriate to return to Treasure Island to bury your treasure chests--before your ship fills up.


Multiple Paths to Victory: Hand-in-hand with the difficult choices is the fact that there are multiple paths to victory; each player can choose his strategy each game. You can try and build a strong ship, acting as the scourge of the seas, or you can try and sneak around to slightly less interesting islands. You can be confrontational or retreat at the first sign of conflict.


Good Bluffing: The mechanism of choosing your location each turn allows for both bluffing and trying to read your opponents, adding another level of strategy to the game.


Loss is Limited: There is a big random element in the game. It tends to come out in battles where good cards and good dice rolls can both heavily influence the outcome. However, that's all alleviated by the fact that losing isn't a big deal. Your ship is damaged and you lose the opportunity to loot and pillage for that one turn, but that's it.


Excellent Theming: The pirate theme of this game is at the heart and core of the game; everything feels like it's working toward that goal. In addition, the game is a nice simulation of theoretical pirate life.


Game design problems were minimal:


Easy to Miss Legendary Pirate Phase: Because it happens all on its own, it's easy to forget to move the legendary pirate(s). This might have worked better if the legendary pirates moved at the same time as the rest of the players.


If I thought Pirate's Cove was a strategy game, I'd rate it entirely average. However, it's not. Instead, Pirate's Cove is clearly a game designed for casual gamers and families. As such, it's heads and shoulders above the rest of the genre, and thus earns a "4" out of "5" for Substance.

Conclusion

If you're looking for a fun and casual game to play with spouses, families, and less serious gamers, this is a good choice. It's a pirate game that really feels like it's about pirating--at least as portrayed in movies and books. If you're a more serious gamer, this can still be a lot of fun, but make sure you're aware of what you're getting into first.


45ca